Well I found another profound connection.
Of course CARD X solves planet X
Card X = Nibiru
Quote: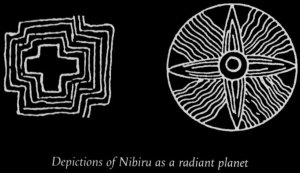 Sitchen's Nibiru
The symbols of the Rose and the Cross are themselves deeply suggestive of Nibiru which was often depicted form of a cross by the ancients, as Zecharia Sitchin describes:
"The pictographic sign for the Twelfth Planet, the "Planet of the Crossing", was a cross. This cuneiform sign, which also meant "Anu" and "divine", evolved in the Semitic languages to the letter tav, which meant "the sign". (2)
Is that how Sitchen depicts them?
Well I find that interesting.
Two of the three plates I found in Iraq, circa 5000 B.C. depict the same idea.
SOUND WAVES …note the Maltese Cross when it 'explodes'.
LIGHT WAVES that can rotate either Clockwise or Anti-clockwise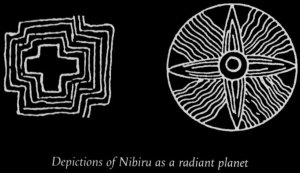 But my up to date interpretation of these ancient sacred concepts would be different than Sitchen's.
Here is how I would match everything, past to present.
On the left in both pairs of images I see SOUND waves and on the right LIGHT waves.
And SOUND we connect to pi, and LIGHT we connect to phi.
And SOUND frequencies can be converted to LIGHT frequencies.
Thus a 'crossover' occurs between LIGHT/phi waves and SOUND/pi waves.
phi and pi are convertible cosmic currencies too.
Was Nibiru sighted in in Iraq around 5000 B.C.?

http://kachina2012.wordpress.com/2008/0 … %E2%80%9D/
Or is most of this an archetypal narrative hinting at something else, not to be taken too literally?
Fact: embedded in the ancient archetype/narrative, I see science today validating what was written long ago, complimenting universal laws of nature being unveiled using microscopes and telescopes.
Other folks who believe only in religion cannot see this connection.
And there are other folks who only believe in science, and they too fail to see the OBVIOUS.
Simple Truths about the rules on how to solve 'X' have been veiled with stories about X, like buried treasure, crucified messiahs, rogue planets and evil nazis and a theory of everything.
That is my spin on it.
namaste
_________________
KEY 528=Swastika=ancient Spherical Standing Wave Theory
"A theory is more impressive the greater is the simplicity of its premise, the more different are the kinds of things it relates and the more extended its range of applicability…"
-Einstein